Welcome to Vista Butte! - Arabian Horses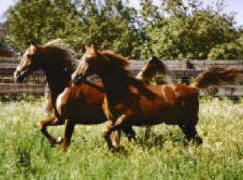 I have been breeding Arabians and Half Arabians for the past sixteen years. As a small and relatively "new" breeder, it is important to me that the horses I produce have specific attributes. The specifics I breed for are sound confirmation, manners, ability and attitude.

I have consistently bred mares I have had, to what I consider the best cross for them in order to allow them to out produce themselves. Not every horse is a show horse; those that aren't still have a responsibility to represent the Arabian breed to the best of their ability in whatever venue suits them best.

The horses I have bred have won in both open and amateur. They have won at Class A, Scottsdale, Regional, Sport Horse and at the National level as well as in National Show Horse. Some are currently being used for endurance and trail but all are viable representatives of the Arabian breed.